Go Back to all blog Posts
5 Questions with Our Founder
Earlier this month, we launched three major additions to our platform: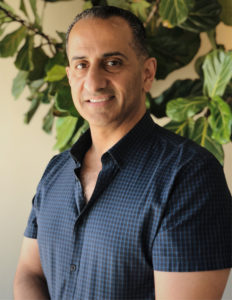 Occupational Accident Insurance (OAI) for all workers in eligible states

Membership into the Independent Contractor Benefit Association (ICBA) for access to discounted healthcare coverage

Self-Background Checks and Motor Vehicle Reports available directly through your Band of Hands profile
To add more context around these important announcements, we sat down with Founder and CEO, Aziz Badra, to discuss what these updates mean and how they'll be beneficial to both Job Workers and Posters going forward.

What inspired you to pursue these updates to Band of Hands?
"We're always looking for innovative ways to improve and expand our platform.  In listening to our customers' feedback to the challenges they're facing, we knew that these updates were critical  solutions to those challenges. These three additions — Insurance, access to Healthcare, and optional Self-Background Checks — represent a few of the top pain points for both Workers and Employers so they were placed as a top priority to address."
Why are these three updates such a big deal?
"Well, if you look at Occupational Accident Insurance (OAI), for example — insurance can be a major obstacle for both Workers and Job Posters. There are many jobs that require Workers to be covered before arriving to a job site.  From the Employer's perspective, Workman's Comp Insurance is a major expense and can be an expensive, complicated and time-consuming process to get in place. So now, with OAI, we're able to open doors to more Workers who want to pursue those jobs. And that's our primary goal: to help more people find flexible work when they can and want to work."
Should Workers on the platform do anything differently as a result of these changes?
"Workers don't need to do anything to turn on these new updates. As long as your state is eligible, all in-person jobs are automatically covered by OAI along with having membership into  ICBA's healthcare discounts and other benefits. I'd recommend taking time to go to the ICBA's website at www.icbassociation.org to see all the benefits available to members. And likewise, be sure to log in to your account at Band of Hands to start your Self-Background Check and Motor Vehicle Report for those qualifications to be added to your profile. Potential jobs may require these qualifications of their Freelance Workers and it's better to have them completed in advance to increase your chances of getting hired quickly."
What about Job Posters? What do these changes mean for them?
"Job Posters should know that the Workers they hire on our platform are covered and ready to get started with no additional paperwork. We hope they'll feel more confident hiring through Band of Hands knowing that they're protected from liability on every job. If they're hiring for a driving or delivery job, we encourage them to look for the Background Check and Motor Vehicle "Clear" badge on Workers' profiles to get that extra assurance."
OAI isn't available in all states, but will it be expanding to more states soon?
"Yes. The Insurance Broker and Carrier are working on satisfying each state's requirements and look forward to announcing more eligible states soon. We'll be sure to let everyone know when more states are added, and in the meantime, you're welcome to email our team with any questions at support@bandofhands.com."